Lisa has worked many times with "Mr. Warmth", comic legend Don Rickles.
They've been together in Las Vegas and Atlantic City and on a concert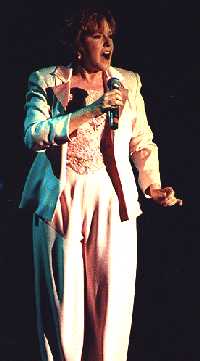 tour in the state of Florida.
"Working with Don Rickles is always a treat," says Lisa. " You just have to remember to stay out of his line of vision if you don't want to become material for his act," she notes.
"Once, when I finished my part of the show, Don saw me watching him from the wings. That's all he needed, one little glance. The next thing I know he's doing three minutes on 'this Irish broad who was out here singing her ass off trying to get a record deal -- on my time! Now she's standing around watching me die in front of this rotten crowd!'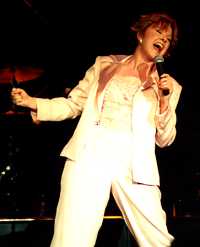 " And that was just for openers!" says Lisa. "By the time he got on to someone else, I was worn out laughing."
Lisa's most recent engagement with Rickles was at the Desert Inn in Las Vegas. They played to enthusiastic sold-out crowds, attesting to the drawing power of the master comedian.
A special treat for Lisa this time was the presence of famous Las Vegas photographer David Lee Waite.
He caught Lisa in her dressing room reading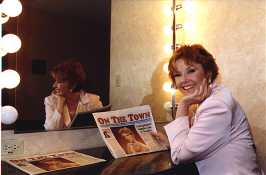 a Las Vegas Entertainment Newspaper that ran a front page story with a large color photo on her appearance at the Desert Inn.
Waite also shot Lisa with Rickles moments before show time.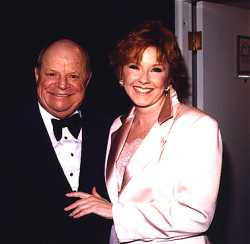 And then, using very high speed film (and no flash), he photographed high-energy Lisa on stage performing.
Waite used a Nikon F3 camera. The main lens was 180mm 2.8 lens. The film used was Fuji 800G Professional.
With that equipment Waite captured many memorable moments of Lisa's performance, actually freezing in time some of Lisa's more comical facial expressions.
For instance, in the lightly humorous song, "Johnny One Note",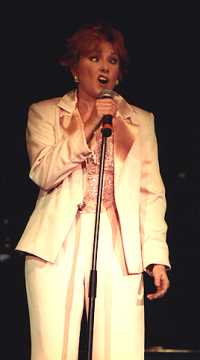 Lisa is caught rolling her eyes heavenward as she sings "While Verdi turned round in his grave".
And during her Judy Garland medley, after bringing the audience to hushed silence on a black -out ending of "I'm Always Chasing Rainbows", Lisa (and the music and the lights) abruptly change to a lively version of "Be A Clown" -- with Lisa sporting a big, red nose!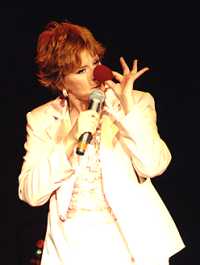 Another high point of this engagement for Lisa was that she was working once again with an old friend, Larry White,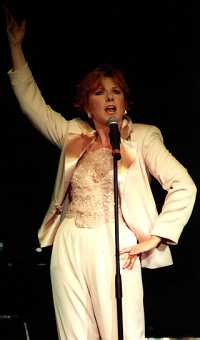 who conducted the wonderful musicians of the Desert Inn Orchestra for her.
Talented Larry is also a musician, composer, arranger and singer who's done just about everything there is to do in the music business -- on television, on Broadway and on the concert stage.
One of the items in Larry's list of accomplishments that you won't find on any other resume any where in the world: Larry, at age 18, was the youngest person ever to conduct the Berlin Symphony Orchestra -- all one hundred of them.
All in all, for Lisa, working again with Don Rickles proved to be another "terrific engagement".
And she's eagerly looking forward to the next one.