Donald O'Connor first met Lisa when she appeared at the Donald O'Connor Family Theater in Los Angeles in the role of Agnes in I DO! I DO!

As Agnes, Lisa got to display her acting talents and her comedic abilities along with her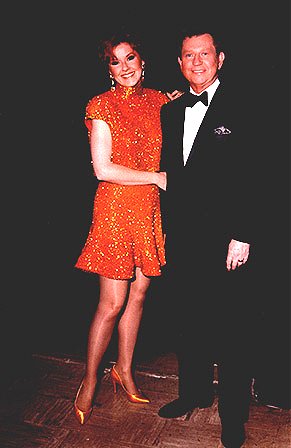 singing and dancing (Reviews).

At the opening night party after the show, Donald and Lisa got to know each other. One thing led to another and Lisa ended up opening for Donald and Mickey Rooney on a tour that started at the Riviera Hotel in Las Vegas.

That engagement is also remembered by Lisa for her introduction given each show --voice over--by Mickey.

"Ladies and Gentlemen," he would say to the audience, "presenting direct from Dublin, Ireland . . .Miss Lisa Donovan!"
To this day, Lisa who at that time had never been to Ireland or to Dublin, is still puzzled over that intro.
Lisa has worked with Donald O'connor many times since. Her favorite of all those times was a two-week engagement at the Dunes Hotel in Las Vegas.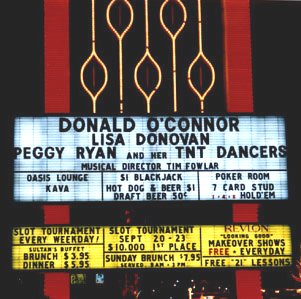 Because she got to dance on stage with the legendary song and dance man.

The close of each show had Donald O'Connor dancing with Peggy Ryan and her line of TNT Dancers. Donald would then go to the wings, bring Lisa back on stage as she and Donald danced -- umbrellas in hand --to Singin' In The Rain, from that great movie of the same name, which starred Donald, Gene Kelly and Debbie Reynolds. Lisa says it was such a good show, it brought the house down. Literally!
A few months later, the Dunes was blown up and torn down.