Lisa's Back In Vegas!
NEW! NEW! NEW!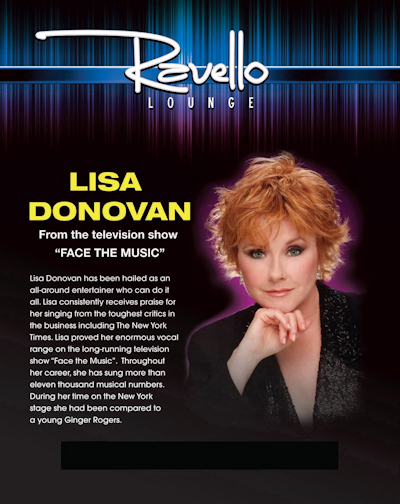 Read the latest Claire Voyant article on Lisa and her recent performance in the Ravello Lounge at the M Resort Spa Casino Saturday, January 21st Read all about it.
---
NEW! NEW! NEW!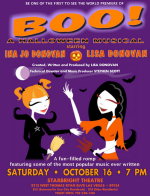 Lisa's new show, BOO! A DE-FRIGHT-FUL MUSICAL, will have its world premiere in Las Vegas this October. Read all about it.
---

"LET ME KNOW WHAT YOU THINK ABOUT THIS"--Lisa

Lisa just recorded a rough demo. It's an exciting new arrangement of an all time favorite song -- now more popular than ever. Think Jersey Boys. Think Frankie Valli. Lisa would love to have your opinion. So have a listen. (It runs just over four minutes.) Click on the play button to view the Video Then email Lisa and let her know what you think of it.

Click Here for MP3 audio verson (right click and Save Target As...to download.)
---
Yes, Lisa's back in the town where she's shared the main room stages with some of the biggest names in show business. (See Lisa's biography)

Yes, she's back. And she's decided to stay. To make Las Vegas her home.

She's on the road so much traveling internationally with her two one-woman shows (JUDY! JUDY! JUDY! LISA SINGS GARLAND and IT'S ABOUT BROADWAY. LISA SINGS THE SHOW STOPPERS) -- that she welcomes the chance to work in her new home town.

So in between recent trips, Lisa appeared in several Las Vegas venues. Her recent shows at the Golden Nugget, Starbright Theater and Josette's Bistro have met with critical success. Read about them in this section. And watch the videos.

And then stay tuned right here for more exciting news about Lisa in Las Vegas!
---
Performer home in Vegas, wants to work here again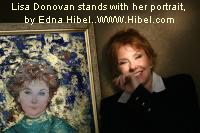 Ginger Rogers helped shape Lisa Donovan's career
By Jerry Fink <jerry@lasvegassun.com>
Las Vegas Sun

Lisa Donovan is among the growing population of talented Las Vegas performers who have better luck finding work outside the city. (Click to read more.(PDF))
---
(

video

) NEW VIDEO OF LISA LIVE!
Lisa recently performed to rave reviews (see below) at the Starbright Theater in Las Vegas. Here is a sampling (four minutes) from that show.
Click Here for Video
---
Lisa Donovan Returns To Starbright Theater


Actress/singer Lisa Donovan, who played to standing ovations last season, returns to the beautiful Starbright Theater in Summerlin Saturday, June 23.

Lisa is one of the two Divas producer Jeanne Bavaro is presenting "Direct From The Strip". The other is Denise Clemente who will perform the following day, Sunday, June 24, at 2 PM.
(Click to read more...) Click to read Article in Las Vegas Sun (

PDF

)
---
Article from Claire Voyant - Las Vegas

Jan 4th, 2008
From Stan Evans comes this e-mail...

"I would hope that you would include Lisa Donovan among the group that should be performing in Las Vegas on a regular basis. Before Lisa moved here two years ago, she had performed many times on major Vegas stages, such as -- in the main rooms at the Dunes (for two weeks) with Donald O'Connor, at the Riviera with Donald O'Connor and Mickey Rooney, many times with Don Rickles at the Golden Nugget, with Rickles again at the Desert Inn and with George Burns in his final Vegas appearance at Caesars Palace. (Lisa was the last person to have shared a stage with Burns, at Caesars Tahoe, before the home accident that ended his career.) And then there was Lisa's solo performance at that great lounge at the Desert Inn, where Lisa alternated shows with, among others, the great Keely Smith. Jack Eglash and Burton Cohen saw Lisa at Caesars with Burns, and hired her for three weeks. She brought in so much business that they kept renewing her until that three-week gig turned into a nine-month engagement. Outside of Vegas Lisa also worked other major rooms -- with Rickles, with Burns and with Rich Little, among many others. (You can find more information on Lisa at www.lisadonovan.com)

Beyond that, Lisa was scheduled to do six weeks at Paris Las Vegas, with the possibility of extending, starting October 3, 2001. After that deal was made and agreed to, of course, came the tragedy of 9/11. Two weeks later and only one week before Lisa's scheduled opening, Paris Las Vegas called with the news that, due to poor post-9/11 business, they were shutting down the room Lisa was to sing in. But, they said, "We will make up for that cancellation." We're still waiting. When Lisa moved to Vegas, it was with the hope of finding steady work here -- so that she could cut down on international traveling (She's worked cruise ships around the world. And did a solo tour of Australia (Judy! Judy! Judy! Lisa Sings Garland). Getting back to the point you made, it's been tough finding work here. Lisa's done a couple of dates at the Starbright Theatre and has another date scheduled there in May. And Jeanne Bavaro, one of Lisa's great supporters, has produced a couple of cabaret shows with Lisa. So Lisa continues singing regularly. But not in Vegas. In just the last four months, Lisa, who, remember, moved to Vegas in the hopes of settling down some, has traveled to, among many other places, Scotland, Ireland, Denmark, Alaska, Japan, Hawaii, French Polynesia, Costa Rica, the Caribbean, Hong Kong, Vietnam, Singapore, China, Thailand, Malaysia -- and will start the new year in Darwin, Australia. Which brings me to the other part of your column that stood out for me. There may be an ironic message to be culled from this. You mention Marty Allen and Karon Kate Blackwell, talented Las Vegas residents who did such good business recently at the Gold Coast. But who also don't find much work here. Guess where they are right now? On the same cruise ship (Princess Sapphire) with Lisa. (They each did a show on different nights. And then worked together in a farewell show.) They've become friends as they all debark in Darwin and fly home to Vegas -- where they all hope to find steady work. But will, in order to keep working, have to leave Vegas again.

There's your message brought home, Cousin Claire. Performers who entertain people all over the world but can't find steady work in the city that bills itself as the Entertainment Capital of the World. There's something wrong somewhere. And bless you for pointing it out."
---

By Norm Johnson, February 2nd 2007: THIS AND THAT QUICKLY: Took in the "Cabaret Dinner Concert" last Friday at Josette's Bistro, where Lisa Donovan performed up to expectations. What a talent! Producer Jeanne Bavaro was quite happy with the turnout, and plans are going forth to bring in more shows. Spotted in the audience were Tony Sacca, Bill Acosta, comedian Janice Hart and singer Denise Clemente . Both Ms. Hart and Ms. Clemente are scheduled to perform in concert at the Bistro...
---

This Friday evening, January 26th, Jeanne Bavaro of BAVARO ETC. (Exclusive Talent Concepts) debuted her monthly Cabaret Dinner Shows at Josette's Bistro. The talented Lisa Donovan opened the new venue. Marleen Marino (photo) of Vegas Community Online was there. Click to read Marleen's VCO review of the fun-filled evening.


Click on Photos to view larger
---

(

VIDEO

) Actress, singer and comedienne Lisa Donovan was the special guest performer at the EventPro Awards gala dinner on Wed., March 8 at Golden Nugget Las Vegas. Ms. Donovan starred on Broadway in Babes In Arms, has appeared on numerous primetime and daytime TV dramas, plus toured with such showbiz legends as George Burns, Ray Charles, Billy Crystal, Bob Hope and Don Rickles. (Click to view Video)
---

By Norm Johnson, January 26th 2007 : This writer has a lot of favorite singers, but one of those at the top of the list is Lisa Donovan, who will be at Josette's French Bistro tonight (Friday) as the first of a series of "Cabaret Dinner Shows" presented by producer Jeanne Bavaro and Josette. Call 227-4575 for reservations or information
---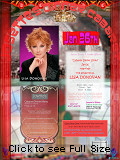 Lisa Donovan, who most recently appeared here at the Starbright Theatre in Sun City Summerlin, is the first performer chosen to inaugurate the new Cabaret/Dinner Series at Josette's Bistro, located at 4983 W. Flamingo. It was announced by Jeanne Bavaro , producer of the series, that shows will be held at the up-scale French restaurant once a month. Donovan, who now makes her home in Las Vegas, has shared main room stages with some of the biggest names in show business, including Don Rickles, Rich Little and George Burns. A real crowd pleaser, the multi-talented Donovan will launch the series on Friday, January 26. Priced at $50 per person, the all-inclusive evening includes dinner and a show with seating at 7 p.m. and the performance starting at 8:30. Reservations are suggested and may be made by calling Josette's Bistro at (702) 227-4575. By Claire Voyant.
(Click to read more.(

PDF

))
---

By Jerry Fink, Looking in on Entertainment: Vocalist, comedian and dancer Lisa Donovan has joined the entertainment family of Las Vegas (Click to read more...)
---

By Norm Johnson, October 13th 2006 : A tremendous singer, friend and great gal will be performing at the Starbright Theater Summerlin come November 29th. Lisa Donovan is the lady who moved back to our little village a while back, giving up living in Hurricane country (Florida) for the calm warmth of Nevada. (Click to read more.(

PDF

))

---

By Norm Johnson, December 8th 2006: The girl did it! She hit the stage running at the Starbright Theatre in Summerlin and finished running. In between, Lisa Donovan managed to get standing ovation after standing ovation as she sang and danced her way into the hearts of the audience. (Click to read more...)
---

By Claire Voyant. On November 29 , our coldest night of the season so far, an enthusiastic crowd (mostly Sun City Summerlin residents), turned out to see and hear singer/dancer/actress Lisa Donovan perform at the Starbright Theatre in the northwest part of the city.
(Click to read more...)
---

By Norm Johnson, December 1st 2006: Lisa Donovan has given up the life of living in Hurricane Country (Florida) for the warmth of Southern Nevada, where she often worked as an opening act for such stars as Don Rickles, Bob Hope, Rich Little and had a long-term contract at the Desert Inn prior to its closing. (Click to read more...)
---

By Jerry Fink , Looking in on Entertainment: Then there is Lisa Donovan, a Broadway-caliber vocalist who has opened for such greats as George Burns, Bob Hope, Don Rickles and Rich Little...
(Click to read more.(

PDF

))