Lisa has performed at many private functions for various corporations, trade groups and associations.
In this connection, she's played the main ballrooms of the Waldorf Astoria and the New York Hilton as well as the Salt Palace in Salt Lake City.
Nearer to her home, Lisa has done her show for private groups in the Beverly Hilton, the Beverly Wilshire and Century Plaza hotels.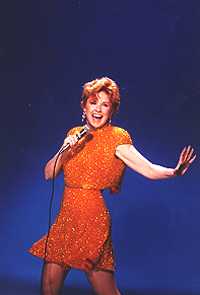 She's taken a band to Acapulco to sing for an American trade association holding their annual convention in that resort city.
Another trade group starred Lisa in a film they produced and had Lisa walk through the screen of the movie live on stage as it was shown to their members in Hilton Head Island.
The following night Lisa closed the convention with a one-hour show, backed by a full orchestra and featuring an exciting display of laser lights that ricocheted around the ball room during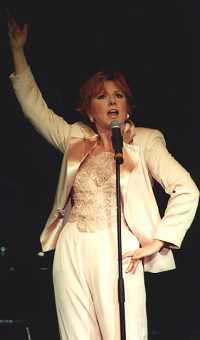 her closing song.
For another, very exclusive and much smaller group, Lisa sang backed by a trio of musicians and, at times, by only a single piano.
Lisa tailors her convention performances to tie in with the theme for the occasion set by the company or organization that sponsors her appearance
However, two special shows that Lisa has performed many times are requested often. They are:
and
Lisa Sings The Show Stoppers
If you'd be interested in having Lisa perform for your group, please contact Lisa's personal manager, Stanley Evans at 702-360-6016..